FootJoy shoe trade in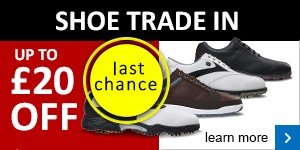 There's never been a better time to buy new golf shoes. By trading in and getting up to £20 for that worn pair of yours - you know the ones I mean - for a spanking new pair, you're making certain that poor traction doesn't affect your golf swing, whilst at the same time you'll ensure a cleaner and more professional look on the course this season. The greens will also appreciate new spikes and, therefore, so will your fellow members.
Trade in your old shoes and receive £20 off a new pair of DryJoys Tour or DryJoys Casual shoes. You can also get £10 off a pair of Contour and Contour Casual golf shoes.
Terms and conditions
Available on FootJoy DryJoys Tour, DryJoys Casual, Contour Series and Contour Casual golf shoes.
Promotion runs from 27 March - 30 April 2014.
Professional reserves the right to terminate the promotion at any time.